While in San Diego, Kevin and I discussed our cooling system options. Most folks doing Subaru conversions are mounting the radiators upfront in the spare tire well. Kevin wanted to do something different and after sketching out the concept on paper, I thought it was pretty cool.
Originally I was thinking that we'd place the radiator upfront just like everyone else, but it's a tight fit and the air flow may have been problematic. It was explained to me that getting air to the radiator was the first half of the problem. Getting air out was the second half. I had visions of doing a custom reverse funnel type shroud that you find in the front noses of water cooled 911s where an intake shroud funnels air to two of three radiators. I wasn't sure if lowlight Ghia nostrils would provide the surface area needed which would have led to making a third open or scoop down low near the horn boot opening. Being a lowlight, I didn't want to mess up the front nose in any way. Plus, I was thinking that we could benefit from the extra weight over the front wheels.
But it was not to be.
Kevin's idea was to build a rear mounted cooling system just above the transaxle and forward of the motor. The idea is to scoop air up from the bottom of the chassis, direct that to the radiator and then flow it out the back over the motor, similar to a standard air-cooled VW.
To pull this off, the parcel area behind the rear seat would need to be sacrificed temporarily while Kevin worked out the framework for the radiator and air flow. Here's what the car looks like with that parcel cut out: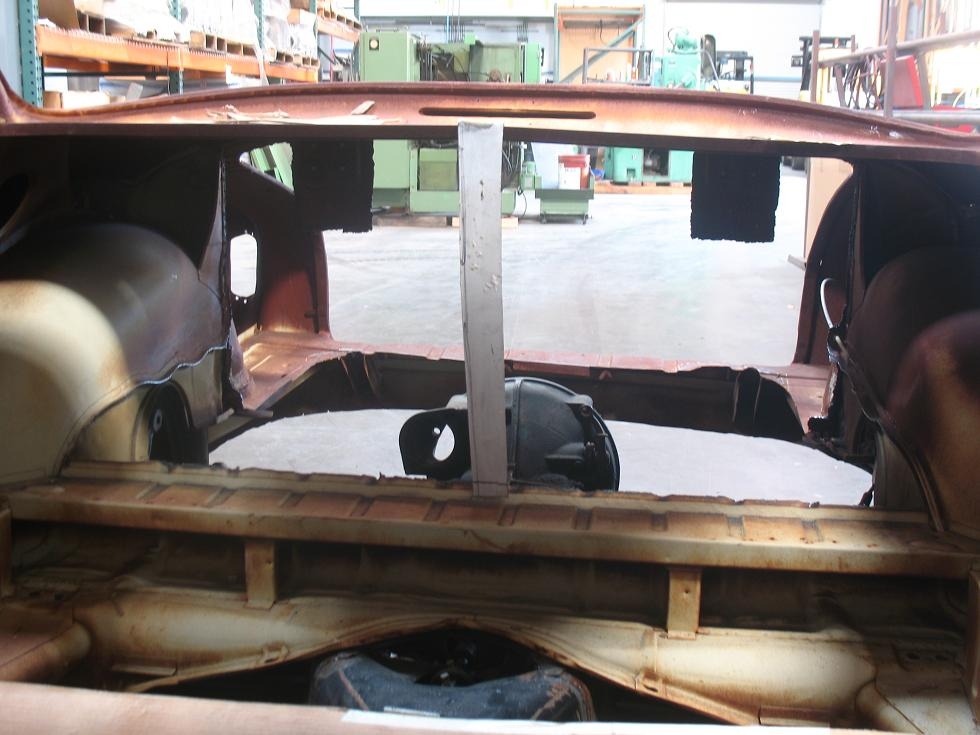 Once the radiator and system are fitted, a new firewall will be constructed to isolate the radiator and engine compartment from the interior.